Pearsall, Texas
Electricians in Pearsall, Texas and Frio County Texas are not all the same. An experienced electrician, who will treat you like family, is only a phone call away. Call Zerr Electric and you have a Pearsall electrician you can count on for life. Contact us today. Call (830)423-4942 and schedule an appointment. Zerr Electric is an experienced electrical contractor. We are licensed, bonded and insured.
---
---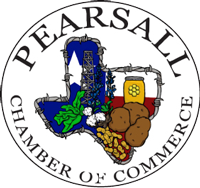 Nestled in the rolling plains south of San Antonio, Pearsall was the prehistoric home of a band of Coahuittecans known as the Pachal. These hunter-gatherers left us few archeological remains of their harsh subsistence lifestyle.
There were several artesian wells in the area, one of which was located present day Moreno Park and later became the first permanent habitation. A crossing on the Frio River gave early access to this area and brought the French explorer La Salle in 1685, the Camino Real (The King's Highway) of Spanish Texas Beginning in 1691 and in 1731 the Canary Islanders on their way to San Antonio.

The modern history of Pearsall began with the railroad. On July 4, 1881, the first passenger train pulled into town for the sale of lots by the International Great Northern Railroad. The town was named for Thomas W. Pearsall, a vice-president of the International Great Northern Railroad.

Although there is no recorded deed, the first settler was probably William Eastwood, who bought 500 acres on the west side of the river at the upper Presidio Crossing.

Frio Town, the original Frio County seat and place where Jesse and Frank James were imprisoned, had most of its population move to Pearsall to be near the railroad. In 1883, Pearsall was chosen as the new county seat and was incorporated as a city in 1909. We welcome you to read more about the history of Frio County.

Located at the beginning of the Chisolm Trail, Pearsall had cattle drives down the main street, public hangings and unfenced open range until 1887. Another interesting historical fact: the Mexican General Santa Anna camped near here on the way to victory at the Alamo.
---

City of Pearsall, Texas Click on the banner to visit their website.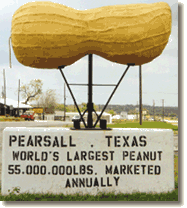 Pearsall, TX Markets 55,000,000 pounds of peanuts annually.
---
Pearsall, TX electricians Zerr Electric