Castroville, Texas
Electricians in Castroville, Texas and Medina County Texas are not all the same. An experienced electrician, who will treat you like family, is only a phone call away. Call Zerr Electric and you have a Castroville electrician you can count on for life. Contact us today. Call (830)423-4942 and schedule an appointment. Zerr Electric is an experienced electrical contractor. We are licensed, bonded and insured.

Zerr Electric is a member of the Castroville, Texas Chamber of Commerce.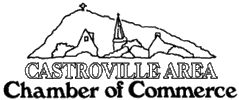 The Castroville Area Chamber of Commerce will strive to effectively represent the needs of our members by working together with the entire community to facilitate achievement of growth, community stability, and civic pride. The Castroville Area Chamber of Commerce was organized in 1945 to help promote the agricultural, civic, commercial and industrial advancement of the community. The Chamber promotes and contributes to civic betterment, encouraging new business investments and continued patronage and support of local business. We are here to promote and help not only our members, but the great community of Castroville. We also serve as a Visitor and Tourist information center. The office staff of the Chamber of Commerce is always ready to help with information on the area whether you call in or stop by. Come see their new location located at 1115 Angelo Street, facing Highway 90. The office is open Monday - Friday from 9am to 3pm.

Promoting Tourism
The Chamber promotes tourism to Castroville through the many memberships we join such as the Greater San Antonio Chamber of Commerce, the Texas Hotel and Lodging Association and the Texas Hill Country Trails Program. We strive to attract visitors to the Castroville area and to local lodging, dining and retail establishments. We post local events in areas such as the San Antonio Express News, local television stations, Texas Events Magazine and many other places. We also host events throughout the year which bring visitors to our area.

Business Referrals and Opportunities
Membership puts your business on the tip of our tongues! Each year, the Castroville Chamber of Commerce receives thousands of inquiries regarding various products and services provided in Medina County. As a member, you receive preference to these inquiries. Industry specific lists are distributed upon request such as lodging, restaurants, physicians, etc…Only Chamber members are on these lists. Each member is also entitled to a direct mailing list free of charge each year. Additional lists and/or labels can be purchased for $15, Contact the Chamber for more information.

Education
The Chamber feels very strongly about the importance of education so each year we work in conjunction with local businesses to provide scholarships to high school seniors, students enrolled in college and adults returning to school. Since 2001, we have helped provide over $82,000 in scholarships. Each year we also recognize the top 10 graduated through an Honor Cord Program. We also realize that much appreciation is needed for our wonderful teachers so we host a New Teacher Luncheon for all new teachers at Medina Valley and St. Louis. Lunch is provided along with a polo shirt. During National Teacher Appreciation Week, we provide a large cake for each of the 6 schools in our area. School employees are also recognized through the "You Make a Difference" award, which is sponsored by local businesses.

Chamber Sponsored Events
Every year is a busy one for the Chamber. We sponsor the highly successful "Old Fashion Christmas" on the first Saturday in December, which brings together local and area residents with visitors from near and far. This arts and crafts fair features over 250 booths along with great entertainment and food. The Chamber's newest event is the Annual "A Taste of the Vine" wine tasting held in April. Don't miss this event which features several great wines, food, a cigar bar and auction. The 4th of July parade stirs patriotic feelings and it's always exciting to see who will win prizes for the best floats. While generating funds for the Chamber, these events show folks how to have a good time, Castroville style!
Zerr Electric is listed under electricians in the chamber website.
We are proud to be members of the Castroville, Texas Chamber of commerce
---

Castroville is a historic little town nestled in the Medina River Valley and the Texas Hill Country 15 miles west of San Antonio. Rich in history, the town was founded in 1844 by Henri Castro and a small group of colonists mostly from Alsace, France.
| | |
| --- | --- |
| | |
| Castroville, TX Welcome Sign | Castroville, Texas Seal |
Zerr Electric considers Castroville, Texas our hometown. Many of our electricians have lived there or grown up in Castroville. Contact us and we will get you on the schedule. No job is too big or small. Zerr Electric does commercial and residential electrical projects in Castroville.

Castroville, Texas City Limits